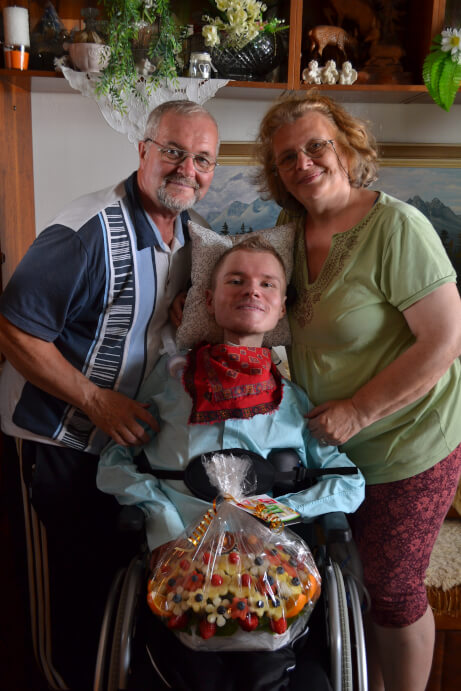 Ivan (Ivko) was born 4.9.1991 in Poprad. Since than he has muscle dystrophy of Duchenne type, which was diagnosed when he was 4 years old. Doctors told us he will stop walking and eventually he will end with breathing device. It was hard to believe that. He could walk till his 10th birthday but then he was reliant upon wheelchair. Now it is three years since he is continuously connected with breathing device. With help of an assistant he was able to finish primary school at art school in Kežmarok., which was the only one allowing him to study with his disability. He learnt to draw very nice even with his limited hands movement. After that he could finish first year at University in Ružomberok city, where he learnt English. Unfortunately, we had to pause and after two years completely stop his studies because of degradation of his health condition. Since his 20th birthday he is at home. He could draw at home.
His paintings were presented on exhibitions in Žilina, Levice and Košice which were held by Association of disabled people. His paintings were also present in project "Building up bridges" for two years. Those drawings were also presented in exhibition centre Incheba in Bratislava and sold there by auction.
Till December last year he could intensively work on PC. His drawings, saved in computer, were printed and gave out for pleasure of others, who came to visit him. He also translates 365 Gods names with verse from Bible from English language. He printed them and gave out also. He likes to hear Christian songs, because he loves Lord Jesus. He empowers him, bringing him joy and optimism. Now after a week-long therapy process, he is weakened and tired. We hope his condition will improve again so he can continue with normal activities as before.